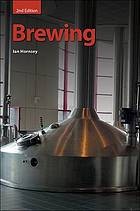 BrewingI. Hornsey; RSC Publishing 2013WorldCat•LibraryThing•Google Books•BookFinder Read 28 Feb – 22 April 2014
Well-illustrated, learned, and perhaps serving multiple readers, this book, now in its new 2nd edition, is, despite being fairly heavy on the science, a useful, up-to-date, statement of the brewers art, with a little bit of up-to-date history and anthropology (Introduction).
[Note: I apologize for the somewhat mishmashed citations. Brewing science uses one of the most ridiculous citation styles ever invented. For starters, they throw out the title of a book chapter or article. I could go on but won't.]
Contents:
1 Historical Material
2 Barley and Malt
3 Hops
4 The Brewhouse
5 Fermentation
6 Beer Post-Fermentation
7 Achieving and Maintaining Beer Quality
Subject Index
I will have little to say about most sections as it is fairly science heavy but still often understandable to someone with a good basic knowledge of commercial brewing. If I were a brewer with a problem or wanting more information on a process or an ingredient then I would turn here to get pointed in the right direction. I will leave in all of the section headings so you can get a good idea of what it contains, which is no more than you can do at amazon [although amazon is showing you the table of contents for the 1st ed. at the 2nd ed. page]. Again, after the Introduction there won't be much in the way of comments. I may leave a note or two and add context as needed but not all of my notes are of use to you as you may well be interested more in one of the many other topics covered in the book.
1 Historical Material
Hornsey's introduction, while being both interesting and easy to read, is also erudite. He turned me on to so many interesting looking works and some possible follow-on work to something I was hoping to find more of [http://marklindner.info/bbl/2013/11/some-things-read-beer-ed/ See Samuel, D.].
He chooses two topics as his focal point in the intro: Likely Origins of Brewing and Some Notable Figures in Brewing Science. The areas of most interest for me, if measured by note-taking and citations recorded for obtaining resources, were the section on the likely origins of brewing and the last paragraph of the chapter where he ends with suggestions for several books and articles on the topic(s) at hand.
1.1 Likely Origins of Brewing
I was particularly excited to learn of his Alcohol and its Role in the Evolution of Human Society, Royal Society of Chemistry, Cambridge, 2012 and his A History of Beer and Brewing, Royal Society of Chemistry, Cambridge, 2003. I acquired a copy of each via Summit (interlibrary loan) and will definitely be ordering myself a copy of both soon.
This section also covered Delwen Samuel's work on brewing and baking in Ancient Egypt. I had read two of his articles, both from 1996, and had hoped to find resources describing any further work. Hornsey pointed me to two of them, which can be found here http://www.ancientgrains.org/delwen_papers.html along with others.
Samuel's work is covered on pp. 3-5 see fn 14 & 15
     fn 14 ref "With the aid of scanning electron microscopy, Samuel has demonstrated that some grains were sprouted (malted!) before being crushed and used for brewing; …." (5)

     14 D. Samuel, "Fermentation technology 3,000 years ago — The archaeology of ancient Egyptian beer." SGM Quarterly, 1997, 24, 3-5.

     fn 15 ref "Brewing and baking in ancient Egypt has been thoroughly studied by Samuel." (5)

     15 D. Samuel, "Brewing and baking" in Ancient Egyptian Materials and Technology, ed. P. T. Nicholson and I. Shaw, Cambridge Univ Press, Cambridge, 2000, 537-76.
This section ends with some suggestions for articles and books:
"Highlights in the history of international brewing science have been summarized by Anderson, who has also documented the way in which science transformed brewing over the past three centuries, and the history of industrial brewing. A number of useful articles on brewing research and brewing history have appeared and are worth consulting, as are the books by Bamforth and Priest and Stewart." (22)

R. G. Anderson, Ferment, 1993, 6, 191. ["Highlights in the history of international brewing science," 191-8.]
R. G. Anderson, Brewery History, 2005, 121, 5.
R. G. Anderson, in Handbook of Brewing, 2nd rev. edn, ed. Priest, F. G. and Stewart, G. G., CRC Press, Boca Raton, FL, 2006, p. 1. [History of Industrial Brewing, 1-38]
T-M, Inari, One Hundred Years of Brewing Research, J. Inst. Brewing Centenary Edition, London, 1995.
F. G. Meussdoerffer, in Handbook of Brewing: Processes, Technology, Markets, ed. H. M. Esslinger, Wiley-VCH Verlag GmbH & Co. KgaA, Weinheim, 2009, p. 1. ["A Comprehensive History of Beer Brewing," 1-42]
C. W. Bamforth, Brewing: New Technologies, Woodhead Pubishing, Abington, Cambridge, 2006. [See my review here http://marklindner.info/bbl/2013/08/bamforth-ed-brewing-new-technologies/]
F. G. Priest and G. G. Stewart ed., Handbook of Brewing, 2nd rev. edn, CRC Press, Boca Raton, FL, 2006
From 6.6 Beer Flavour:
     "For an up-to-date account of the sensory evaluation of beer see the excellent chapter by Bill Taylor and Greg Organ, 217 a repository of important facts and references." (269)

     217 W. J. Taylor and G. J. Organ, in Handbook of Brewing: Processes, Technology, Markets, ed. H. M. Esslinger, Wiley-VCH Verlag, Weinheim, 2009, p.675. ["Sensory Evaluation," 675-702]
Have my hands on this and looking forward to reading it.
From 7.2.4 Foam one little nugget (amongst many):
     "Even allowing for the enormous amount of research that has been carried out into the broad subject of head retention, there is still a mysterious side to the subject, a fact that is referred to in an article by Bamforth.48" (287)

     48 C. W. Bamforth, The Brewer, 1995, 81, 396. ["Foam: method, myth or magic?" 396. [389].]
Contents:
1 Historical Material
1.1 Likely Origins of Brewing
1.2 Some Notable Figures in Brewing Science
1.2.1 Robert Boyle (1627-1691) and Robert Hooke (1635-1703)
1.2.2 Antonj van Leeuwenhoek (1632-1723)
1.2.3 Challenging "Spontaneous Generation"
1.2.4 Louis Pasteur (1822-1895)
1.2.5 The Sedlmayrs – a Scientific Brewing Dynasty
1.2.6 The Carlsberg Laboratory, Copenhagen
1.2.7 Chemists and the Brewing Industry
2 Barley and Malt
2.1 In the Beginning
2.2 The Barley Plant and Its Domestication
2.3 Barley Breeding
2.4 Biochemical Structure of Barley
2.4.1 Starchy Polysaccharides
2.4.2 Non-Starchy Polysaccharides
2.4.3 Proteins (Nitrogen; N)
2.4.4 Lipids
2.4.5 Other Constituents
2.5 Malting
2.5.1 Steeping
2.5.2 Germination – and What Happens
2.5.3 Kilning
2.5.4 Malting Loss
2.6 Other Cereals Used In Brewing
2.6.1 Wheat
2.6.2 Rice
2.6.3 Maize
2.6.4 Sorghum
2.6.5 Oats
2.6.6 Rye
2.6.7 Triticale
2.6.8 Buckwheat
2.7 Specialist Malts and Adjuncts
2.8 Commercial enzymes Used In Brewing
3 Hops
3.1 Historical
3.2 The Plant
3.3 Hop Varieties
3.3.1 Dwarf Hops
3.3.2 Hop Processing
3.4 Hop Constituents
3.4.1 "Sunstruck" Beer
3.5 Hop Products
3.6 Hop Pests and Diseases
4 The Brewhouse
4.1 Milling
4.2 Mashing
4.3 Wort Separation
4.4 Sweet Wort
4.4.1 Carbohydrate Composition
4.4.2 Nitrogen Compounds
4.4.3 Fatty Acids
4.4.4 Sulfur Compunds
4.5 Wort Boiling
4.6 Wort Cooling
5 Fermentation
5.1 The Yeast
5.2 Nutritional Requirements of Yeast
5.2.1 Carbon Metabolism
5.2.2 Nitrogen Metabolism
5.2.3 Vitamins
5.2.4 Inorganic Ions (Other Elements)
5.2.4.1 Sulfur
5.2.4.2 Phosphorus
5.2.4.3 Metallic Elements
5.2.5 Relationship with Oxygen
5.3 Yeast: Vitality and Viability
5.4 Fermentation
5.5 Yeast Storage Compounds
5.6 Fermentation Technologies
5.6.1 Batch Fermentation
5.6.2 Continuous Fermentation
5.6.3 High-Gravity Brewing
5.7 New Brewing Yeasts
6 Beer Post-Fermentation
6.1 Maturation
6.1.1 Flavour Development
6.1.2 Colloidal Stabilisation
6.1.3 Carbonation
6.1.4 Clarification and Filtration
6.2 Brewery Conditioned Beer
6.2.1 Kegging
6.2.2 Bottling
6.2.3 Canning
6.2.4 Nitrogenated Beer
6.3 Cask-Conditioned Beer
6.3.1 The Cask
6.3.2 Beer Fining
6.3.3 Bottle-Conditioned Beer
6.4 Low-Alcohol (LA) and Alcohol-Free Beers (AFB)
6.5 A Couple of "Special" Beers
6.5.1 Ice Beer
6.5.2 Wheat Beer
6.6 Beer Flavour
7 Achieving and Maintaining Beer Quality
7.1 Management and Systems
7.2 Chemical and Physical Laboratory Analysis
7.2.1 Gravity and Beer Strength
7.2.2 Bitterness
7.2.3 Colour
7.2.4 Foam
7.2.5 Nitrosamines
7.3 Microbiology
7.3.1 Rapid Identification Methods
7.3.1.1 ATP Bioluminesence
7.3.1.2 Fluorescence in situ Hybridisation (FISH)
7.3.1.3 The Polymerase Chain Reaction (PCR)
7.3.2 Bacteria
7.3.3 Wild Yeasts
Again, a well-illustrated and learned book that can perhaps serve multiple reading publics.
I got this from COCC Barber Library [TP 570 .H66 2013]. It is a second copy of a text for the brewing certificate exam prep course that started this spring term at COCC.