This is the first book I have finished for My Two-Thirds Book Challenge.
Sara picked this book up at the lovely Defunct Books in Iowa City. It is a nice used book store that sits atop The Red Avocado vegan restaurant. Two great places in such proximity!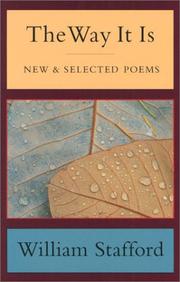 ; Graywolf Press 1999
At 268 pages, there are a lot of poems in this book, which cover a 36-year publication history (1960-1996). It even includes the poem he wrote on the day he died.
I quite enjoyed this book, copied out several poems and a handful or two of great lines to use as prompts, read several to Sara, and generally pondered what Mr. William Stafford was like as a human being.
The one possible drawback to these poems is that there are simply too many of them to digest at once. The reader can discern one or more minor shifts in Stafford's work across time* which makes it a bit more difficult to get a grasp on him at any specific time. But honestly, this is a very small thing as his shifts are never very large and have more to do with his moving across parts of the country and with the normal shifts in theme and voice that a poet encounters as they age.
These poems accompany one as well as would a wise, world-observant, loquacious, and avuncular (but frequently solitary) companion who knows how to give one all the space and time one needs to grow just as wise and world-observant. He never gets in your way, never obstructs your view, doesn't tell you what to think or even what to observe. The Way It Is is not a prescription but a description, and it winds its way through the whole volume and not simply the single short poem that bears that title. In fact, lines and phrases quite similar to "the way it is" are peppered throughout the poems of this volume.
Love, the land, family, community, death, aging, historical events, nature, academia, and writing are only some of the many topics of these hundreds of poems.
In many ways I wish that I had taken a bit more time with these poems, that I had let them sink in more. Although, I am envisioning rereading them in the not-so-distant future as a one-poem-a-day meditation over the course of a year plus (there are approx. 400 poems). My version of a bible chapter a day, if you will.
*My biggest gripe with this book is its arrangement. The approximately 400 poems were selected from "some three thousand poems published by William Stafford in either journals or in the sixty-seven volumes from West of Your City (1960) to Even in Quiet Places (1996), and from the poet's Daily Writings, with special attention to those of the last year of his life" (253). Great so far, but then:
"The volume is organized as follows: recent poems in the first section; a second section selected from the six volumes collected by HarperCollins in Stories That Could Be True (1977); a third section of poems published by other publishers, mostly in limited editions; and a fourth section selected from the poet's last three HarperCollins volumes, A Glass Face in the Rain, An Oregon Message, and Passwords" (253).
Who does that kind of crap? Oh, yes. Poetry editors. Idiots! To show you the order in which I read these poems, as chronological as possible, here is the listing we constructed to do so:
p. 60 1960
p. 77 1962
p. 103 1966
p. 120 1970
p. 131 1973
p. 49 1977
p. 187 1982
p. 149 1983
p. 208 1987
p. 231 1991
p. 155 1992
p. 177 1980-1993
p. 3 1992
p. 24 1993
p. 166 1996
Simply astonishing!
All arrangement issues aside, I truly enjoyed this book and look forward to revisiting it and more of William Stafford's work.
William Stafford at The Poetry Foundation
I will leave you with an excerpt from "An Afternoon in the Stacks"
…
…. When this book ends
I will pull it inside-out like a sock
and throw it back in the library. But the rumor
of it will haunt all that follows in my life.
….
The Way It Is (235)