This is the 2nd update to the Two-Thirds book Challenge.
This time of year is always busy and for one of us facing a big move it is especially so. Thus, not many of us were able to finish reading and/or write up any of our books.
Helen read Steve Martin's An Object of Beauty.
As a rule, Helen says, she loves Steve Martin's books. Although she had been warned that she might not "really get or enjoy this story" as she has no specific interest in the art world, she found that it provided "a glimpse into a world I will never be a part, giving it a sense of fantasy while referencing things I know are real having lived in New York."
She adds:
Steve Martin is gifted at laying out spans of life in a effortless way, showing the through lines of a persons life so subtly that it's as if you're going through it with them. In the case of this story, we follow the rise and fall of an intrepid, sometimes devious, always ambitious, woman in the high powered art world of New York.
She found it a little forced at the end but forgivable in light of the rest and considering how authentic it seemed.
I finished William Stafford's The Way It Is which I quite enjoyed.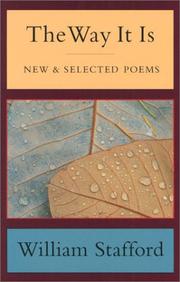 ; Graywolf Press 1999
I'll start with the negatives and finish on a more upbeat note as I do like Stafford's poetry. One drawback of this book was that there are simply too many poems here to digest at once. That, though, could easily be handled by reading it in a different manner, which I mentioned in my review post.
More important as a true negative, in my opinion, is the ridiculous way the poems are arranged throughout the book. I did not follow that ordering but that also provided its own drawbacks. This is also explained more fully in my post.
More positively, here is some of what I said:
These poems accompany one as well as would a wise, world-observant, loquacious, and avuncular (but frequently solitary) companion who knows how to give one all the space and time one needs to grow just as wise and world-observant. He never gets in your way, never obstructs your view, doesn't tell you what to think or even what to observe. The Way It Is is not a prescription but a description, and it winds its way through the whole volume and not simply the single short poem that bears that title. In fact, lines and phrases quite similar to "the way it is" are peppered throughout the poems of this volume.
Jen, along with her daughter, read Adam Gidwitz's A Tale Dark and Grimm. [And, yes Jen, it does count even if she read part of it to you. Sara and I read books to each other and then we both consider them read. If it was an audio book it would count. Seems like the best kind of audio book to have a loved one read to you!]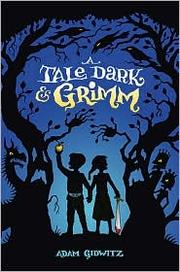 Adam Gidwitz.; Dutton 2010
Enthusiasm and amazing characterizations by her daughter helped Jen succumb to the story.
Hansel and Gretel weave their way through several story lines, most of them quite tragic (as traditional fairy tales are wont to be) and prove once and for all that children (at least these children–Hansel and Gretel) should be adulated and obeyed by adults. (I might have a bone or two to pick with that assertion.) Written by a teacher, the author humorously breaks in to the story line repeatedly to warn the reader to send small children away when horrible things are about to happen.
For a while Sara and I had an advanced reader copy of this but I think we weeded it without either of us reading it. This (now) makes me sad! I'll be taking a very short, 3-week, 1-credit class on Grimm's Fairy Tales this coming J-Term in January. Sadly, we did that round of weeding before I knew there would be a Grimm's course [Ah, early Sep 2010 it was weeded].
Well, that is it for this installment of the Two-Thirds Book Challenge. Keep reading and next time we'll hear about some more enticing sounding books.
Note: In the last couple days of writing and proofing this I see that Jen has finished another book. I also know that Sara has finished something that she should be including but she hasn't had a chance to write it up. We'll save these for next time. 😀