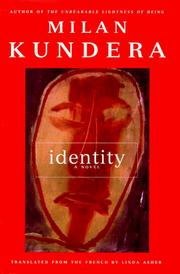 IdentityMilan Kundera; HarperFlamingo 1998WorldCat•Read Online•LibraryThing•Google Books•BookFinder 
This is a smallish book at 168 pages and 8.5" x 5.75" in hardback with reasonably large type. Yet I had to almost force myself to read it. I stumbled across it the first time I browsed COCC's Barber Library's shelves with my new patron card a couple weeks back.
I truly enjoyed The Unbearable Lightness of Being although I read it for a grad sociology class on lived morality so my engagement with it was a little different. [See my blog post: The Unbearable Lightness of Being and morality]
A couple of years later I read The Joke and gave it 5 stars. I have also read two of Kundera's books of criticism/lit theory, The Art of the Novel, which I gave 5 stars, and The Curtain, which I only gave 3. So I guess you could say that I generally enjoy Kundera. I do have plans to read other novels of his.
This book seemed very different. While you can sort of tell that it is Kundera it is also hard to see it as being his. I think it has to do with how telegraphed every topic he touches on is. Normally, or at least in the books I have read, he can go on at great length about something. There may even be whole sections of the book that are "about" a topic; e.g., kitsch in The Unbearable Lightness of Being. There is none of that here. Everything of interest is more like a drive by shooting with limited ammo. He throws out something interesting with a bullet or three in your general direction and then is gone, down the street and around the corner.
Some of these interesting teasers involve surveillance, friendship, daddies vs. fathers, three kinds of boredom, the mistaking of one's loved one for someone else, 'little boy' as loaded future, is the loved one with others the same loved one as with only oneself, nostalgia for the present other, and of course, (loosely) woven throughout these, identity.
Most of these occurred in the first half of the book. There are 50 chapters in the 168 pages of the book and all of those things I mentioned came from the first 26 of them. I only made short notes on chapter 29 and 30 and they were actually directly related to the plot and not actually 'interesting' things.
Not all ideas need extended discursions—I know that—but several of these would have benefitted from a more Kunderian treatment.
All in all, I was disappointed in this book. I now fully understand my friend's review, "As with Ignorance, I have no recollection of reading this." I expect the same will be said by me in a year or two.