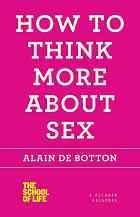 How Think More About SexAlain de Botton; Picador 2013WorldCat•LibraryThing•Google Books•BookFinder 
I read de Botton's How to Think More About Sex on 1-2 November 2014. It was not quite what I expected; I also expected more. Then again, I gave a mixed review to The Architecture of Happiness, which suffers from some of the same issues.
But first, the contents:
I. Introduction
II. The Pleasures of Sex
     1. Eroticism and Loneliness
     2. Can 'Sexiness' Be Profound?
     3. Natalie or Scarlett?
III. The Problems of Sex
     1. Love and Sex
     2. Sexual Rejection
     3. Lack of Desire: Infrequency, Impotence, Resentment
     4. Pornography: Censorship, A New Kind of Porn
     5. Adultery: The Pleasures of Adultery, The Stupidity of Adultery
IV. Conclusion
Homework
My comments and excerpts:
de Botton writes in an overly generalized fashion, he considers few alternatives, he is quite probably contradicting himself on a couple occasions, he is often anthropomorphic and reifies to no end, and he seems to have written this book from a healthy, Euro-skinned, heterosexual of reasonably decent (or better) looks perspective. Gays, transexuals, asexuals, whatever do not appear. Do not get mention. Nor do the vast majority of people who are of mediocre appearance at best. Apparently, the only ones who should be thinking more (clearly/intelligently/humanely) about sex are healthy good-looking heterosexuals. Not.
I know this book is short but it leaves so damned much out. And that is perfectly fine and certainly expected. But if you are leaving out that much of the human experience of sex without even mentioning that you have no space for it then you do not deserve to name your book How to Think More About Sex. It really is that simple.
Based on this alone, one probably ought skip this book. But it is short and it has great moments. There are things of import to think about that he brings up. Some of his offerings for ways in and/or out of things are fine and some are bunk. But he is trying to intelligently discuss sex. I appreciate the hell out of that! But this only hits on occasion and it misses by so damned much in its general approach to ignoring much of the world's population's individual experiences.
Let's dive in.
I. Introduction
I really liked this bit in the Intro. The end of that first paragraph is a bit over the top but I can't argue really with that full one after it. He does a decent but succinct job of showing how messed up our "thinking" is about sex and, thus, why we may need to think/talk/act more intelligently about it.
"…. We [are] bothered by sex because it is a fundamentally disruptive, overwhelming and demented force, strongly at odds with the majority of our ambitions and all but incapable of being discreetly integrated within civilized society.

     Despite our best efforts to clean it of its peculiarities, sex will never be either simple or nice in the ways we might like it to be. It is not fundamentally democratic or kind; it is bound up with cruelty, transgression and the desire for subjugation and humiliation. It refuses to sit neatly on top of love, as it should. Tame it though we may try, sex has a recurring tendency to wreak havoc across our lives: it leads us to destroy our relationships, threatens our productivity and compels us to stay up too late in nightclubs talking to people whom we don't like but whose exposed midriffs we nevertheless strongly wish to touch. Sex remains in absurd, and perhaps irreconcilable, conflict with some of our highest commitments and values. Unsurprisingly, we have no option but to repress its demands most of the time. We should accept that sex is inherently weird instead of blaming ourselves for not responding in more normal ways to its confusing impulses." 6-7
II. The Pleasures of Sex
He leaps right in trying to show that sex is messy and great and vengeful and loving and …. He does a good job showing that we truly are less in charge than we think when it comes to sex. This is also a bit thin for someone new to it (I am not) but he's on the right track. Evolutionary biology can only explain so much (if it does at all) and one has to bring other theories to bear to explain more than mere biological sexual attraction for reproductive purposes. He does. Are they the right ones, or at least highly useful?
     1. Eroticism and Loneliness
          "It could sound disgusting — and that's the point. Nothing is erotic that isn't also, with the wrong person, revolting, which is precisely what makes erotic moments so intense: at the precise juncture where disgust could be at its height, we find only welcome and permission. The privileged nature of the union between two people is sealed by an act that, with someone else, would have horrified them both." 22

          "Sex temporarily liberates us from the punishment dichotomy, well known to every one of us since childhood, between dirty and clean. Lovemaking purifies us by engaging the most apparently polluted sides of ourselves in its procedures and thereby anointing them as newly worthy." 37
On fetishes:
          "In a clinical sense, a fetish is defined as an ingredient, typically quite unusual in nature, which needs to be present in order for someone to achieve orgasm." 38

          "In this wider sense, fetishes are simply details — most often related either to a type of clothing or to a part of another's body — which evoke for us desirable sides of human nature. The precise origins of our enthusiasms may be obscure, but they can almost always be traced back to some meaningful aspect of our childhood: we will be drawn to specific things either because they recall appealing qualities of a beloved parental figure or else, conversely, because they somehow cancel out, or otherwise help us to escape, a memory of early humiliation or terror.

          The task of understanding our own preferences in this regard should be recognized as an integral part of any project of self-knowledge or biography. What Freud said of dreams can likewise be said of sexual fetishes: they are a royal road into the unconscious." 39
Tying our fetishes to issues of values and the good life which he'll bring out later:
          "The pleasure we derive from sex is also bound up with our recognizing, and giving a distinctive seal of approval to, those ingredients of a good life whose presence we have detected in another person. The more closely we analyze what we consider 'sexy', the more clearly we will understand that eroticism is the feeling of excitement we experience at finding another human who shares our values and our sense of the meaning of existence." 44
     2. Can 'Sexiness' Be Profound?
          "A consensus emerges about which sorts of faces we find most appealing. From these studies [cross-cultural], evolutionary biologists have concluded that a 'sexy' person of either gender, far from being an unclassifiable abstraction, is in essence someone whose face is symmetrical (that is, the right and left sides match precisely) and whose features are balanced, proportionate and undistorted." 81

          "The discipline [evol biol] absolves physical attraction of the charge of being purely superficial. While conceding that we judge people by their appearance, it holds that appearances themselves are anything but trivial and indeed point towards some rather profound qualities." 84
     3. Natalie or Scarlett?
          "Evolutionary biology confidently predicts that we will be drawn to people on the basis of their evident health, but it has not put forward any truly convincing theories about why we should prefer one specific healthy person over another." 63
But what about people who clearly are not "healthy" who find love and are attracted sexually to others?
          Wilhelm Worringer's theory on art appreciation; essay, "Abstraction and Empathy," 1907 64-8
          Worringer's theory applied to sexual attraction 69-72
          "We then declare people 'sexy' when we see in them evidence of compensatory qualities, and are repelled by those who seem prone to drive us further into our extremities." 70

          "We need both art and sex to make us whole, so it is not surprising if the mechanisms of compensation should be similar in each case. The specifics of what we find 'beautiful' and what we find 'sexy' are indications of what we most deeply crave in order to rebalance ourselves." 72
III. The Problems of Sex
This section attempts to offer possible remedies, or at least ways in, to mitigate some of the many problems with sex. Of course, only a few are covered in the short space allowed. I am not sure how effectively he deals with some of them either.
     1. Love and Sex
          "It's time for the need for sex and the need for love to be granted equal standing, without an added moral gloss. Both may be independently felt and are of comparable value and validity. Both shouldn't require us to lie in order to claim them." 79
Amen! The data on this–and he does provide some; there is much more–show what a damaging idea modern love (and marriage) truly is. Maybe someday perhaps the two can be pulled apart in a more sane and sensible way but I have my doubts.
     2. Sexual Rejection
          "We don't have to take sexual rejection as a sure indication that another person has looked into our soul and registered disgust at every aspect of our being. The reality is usually much simpler and less shattering than that: for whatever reason, this particular individual just can't get turned on by our body. We can take comfort in the knowledge that such a verdict is automatic, preconscious and immutable. The one doing the rejecting isn't being intentionally nasty; he or she has no choice." 82
If we could already use reason in regards to love and sex then this probably would be less of an issue than it is. Realigning our views on the issue, as he suggests, would be useful but quite unlikely to be of use to more than a handful of people, statistically speaking.
     3. Lack of Desire:
          i. Infrequency
               "The solution to long-term sexual stagnation is to learn to see our lover as if we had never laid eyes on him or her before." 97

               "While going about their quite different types of business, the lover and the artist nonetheless come up against a similar human foible: the universal tendency to become easily habituated and bored, and to decide that whatever is known is unworthy of interest. We are prone to long for novelty, kitschy romanticism, drama and glamour." 99

               "We should try to locate the good and the beautiful beneath the layers of habit and routine." 102
          ii. Impotence
     Argues that this is a "symptom of respect." Not buying that for a second, except in some percentage (I'm going with small) of all cases. And the reason why is all the bullshit he says about men in these paragraphs. Again, overly generalized beyond all possible acceptance. Gamergate and #teamharpy, along with way too many other things today show us that most men have not "evolved" as de Botton seems to think.
          iii. Resentment
               "By overwhelming consensus, our culture locates the primary difficulty of relationships in finding the 'right' person rather than in knowing how to love a real — that is, a necessarily rather unright — human being." 121
Yes. This bit is quite valuable. Again, shows the utter destruction caused by the currently prevailing (by those in power) views of love and marriage in Western society.
     4. Pornography:
          i. Censorship
I. Just. He seems to accept, and argues, that pornography is extremely dangerous to society and that some form of censorship is necessary. He is writing in particular about the Internet. Yes, indeed, let's let nanny-state governments censor the Internet so we can get back to work. Jackass! There are so many intermediate steps.
I should explain that my vehemence here is he because he made no real argument for pornography being an immense destructive force; just assumed via anecdata.
          ii. A New Kind of Porn
I. Just. Don't. But now he wants a new kind of porn. "Virtue porn."
"Yet is is possible to conceive of a version of pornography that wouldn't force us to make such a stark choice between sex and virtue — a pornography in which sexual desire would be invited to support, rather than permitted to undermine, our higher values." 139
OK. This might work for a few folks; he should go back and re-read his discussion of fetishes though, as a first caution. And some of his examples later on make some sense; again, for a few folks. But his discussion. Oy! His example to lead us into pornography that might support our virtues is Sandro Bottticelli's The Madonna of the Book, c.1483.
Seems to be contradicting himself in these two sections also. Porn must be censored. Oh, look, a new kind of "virtue porn." Make a choice or choose a middle ground, sir.
     5. Adultery:
          i. The Pleasures of Adultery
               "However, the real fault in the situation lies in the ethos of modern marriage, with its insane ambitions and its insistence that one person can plausibly hope to embody the eternal sexual and emotional solution to another's every need.

               Taking a step back, what distinguishes modern marriage from its historical precedents is its fundamental tenet that all our desire for love, sex and family ought to reside in the selfsame person. No other society has been so stringent or so hopeful about the institution of marriage, nor ultimately, as a consequence, so disappointed in it.

               In the past, these very distinct needs — for love, sex and family — were wisely differentiated and separated out from one another." 152
          ii. The Stupidity of Adultery
This section brought out how also very middle-class and above focused it is.
IV. Conclusion
     "When every contemptuous but fair thing has been said about our infernal sexual desires, we can still celebrate them for not allowing us to forget for more than a few days at a time what is really involved in living an embodied, chemical and largely insane human life." 175-6
I can certainly agree with this view, but while he did a decent job arguing this, if it was what he truly meant to argue then I suppose it would have been a somewhat different book. Or perhaps not.
Homework
This is the sources section.
Conditionally recommended is what I am going to say. That is, if you want to think more about sex. Then again, if you want to think more about sex then I would recommend this book [any edition would be fine], even if the focus of each is not the same.
Administrivia:
I had to create a record at Open Library so I could use John Miedema's OpenBook plugin. I had hoped I was done with adding so many records there but is good to be writing again. And it is a nice record.