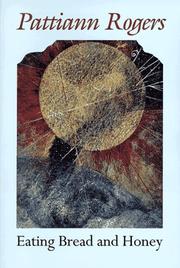 Eating bread and honeyPattiann Rogers; Milkweed Editions 1997WorldCat•LibraryThing•Google Books•BookFinder 
This is one of the first books that I checked out from COCC's Barber Library with my community patron card. I found it just by browsing through the PSs.
Although I did like two poems in here and she comes highly lauded, all in all, I did not care for these poems. Rogers uses language beautifully, But then she chains those bits of beautiful language together until it becomes a constant cacophony of metaphors and comparisons between the natural world and the human-constructed world or the human-constructed world and itself or the natural world and itself, or all at the same time.
E.g., see this excerpt from "The Long Marriage: A Translation" (87-88):
In among the alder's highest black
branches making a complicated map
of depth and elevation against the dull
white sky, winter waxwings in a flock
settle, coming, going.

They depart, altering the design of cold
and season in the tree, return
in gatherings of six or seven, flying
in quick staccato against a largo
of motion relative to one another,
As if they weren't birds alone
but a constantly changing syntax
in a history of place and event.

Several sail together over the fallen
field with an expansion and contraction
of pattern that might sound like a wheezing
of wooden organ or bagpipe, were there sound
to vision. And eleven spiral up, angle
into the evening like eleven dead leaves
with stunted wings and no more purpose
nor will than to illustrate eleven
different motives of the wind at once.

Gliding to gully, to river brush, a wave
of them parts easily, rejoins in crossing
familiarities that might impress like lavender
and sage, were there fragrances
to involution and grace.

…
This poem comes almost at the end of the book. By itself it doesn't seem so bad. Birds flying, musical metaphors, sensory modalities veering into others. It is actually kind of beautiful. But this is 80-some odd pages in and it has been incessant. I really like the last stanza I included. But as a whole, for me, it is just too much.
If you like what you see here and you would enjoy it in quantity then this book is for you.