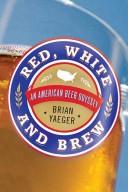 Red, white, and brew: an American beer odysseyBrian Yaeger; St. Martin's Press 2008WorldCat•LibraryThing•Google Books•BookFinder 
Brian Yaeger's Red, White, and Brew: An American Beer Odyssey, while now six-years-old, is still a timely trip across America and its craft beer scene. Some of it seems so fresh and some of it really made me go, "Wow! This was only six or seven years ago?"
I read the book October 13 – November 9, 2014. I did not take any notes and just took it a bit at a time. This is, though, a book a reader could tear through. Heck, that might even make it seem even a bit more like you were there with him on his often hectic schedule.
It is certainly a timepiece. But I believe those to be of considerable potential value and this is one of those kind.
I got my copy used at The Book Bin in Corvallis, Oregon for $8.25. You can get it for Kindle for $9.99 and this would probably actually be a great book as an ebook. Not quite as simple a layout as a standard work of fiction but close. New at amazon would set you back $13.45. Used copies all over. And many public libraries still have it, including some as an ebook.
Starting in New England and heading counterclockwise around the country, more-or-less, Yaeger visits 37 breweries/brewpubs in roughly 14 areas of the country. His visits range from tiny Electric Brewing (Bisbee, AZ) to the likes of Widmer Brothers or Sierra Nevada.
There are probably no lessons here; nor do there need to be. This meandering odyssey of a cross-country ramble does remind us that beer is indeed a social lubricant. It also captures, as best a small slice of time can, a valuable snapshot of the diversity of the American craft beer scene around 2005 and 2006.
So pick yourself up a copy, pop open a beer, and sit down for an enjoyable read.