[This, too, is a late DigiWriMo post.]
Thankfully, later after watching The Tree of Life we watched Hysteria, which we have also been wanting to see after seeing the previews a couple years ago. It by no stretch came to conservative Sioux City so we missed it in the theater. We couldn't even find it in Omaha, although we could be wrong on that count but we had looked repeatedly while it was in theaters. Ninety miles one way is a long way to go for a film but we would have.
After we watched it I tweeted,
Cleansed my movie palate with Hysteria, based on this most excellent book by Rachel Maines http://marklindner.info/blog/2011/02/02/maines-the-technology-of-orgasm/ [tweet]
The next morning, Karen Coyle tweeted to me:
@mrlindner One of my favorite books. See: bit.ly/UYGA8X [tweet]
Check out her review at that link. It is much better than mine.
We saw the preview for the movie in the cinema shortly after I read Maines' excellent book and I knew that it was (somewhat) based on Maines' book immediately. It looked hilarious and as The Technology of Orgasm is one of my favorite books of all time—which I had discussed a fair bit with Sara as I read it—we really wanted to see it. It did not come to Sioux City or environs and time went by. We moved and even more time went by. Sara got it from the public library finally and we watched it last night. The movie was as good as we hoped and we are in the process of watching the documentary (actually excerpts from Passion and Power: The Technology of Orgasm) that comes as an extra feature on the DVD. It is also pretty good and features a lot of Rachel Maines, along with a couple of others, so I am happy to be able to hear her talk about her research also.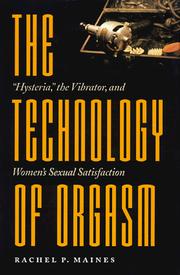 The Technology of Orgasm: "Hysteria," the Vibrator, and Women's Sexual SatisfactionRachel P. Maines; The Johns Hopkins University Press 1998WorldCat•LibraryThing•Google Books•BookFinder  
Katherine Young (Ph.D. and author of Presence in the Flesh: The Body in Medicine) puts forth the idea that the Copernican Revolution was revolutionary in another way than is typically thought. She had been outlining some long time ideas on human sexuality in that males were thought to be of the elements of fire and air, thus hot and light, and that women were of earth and water, and thus heavy, cold and wet. When the Copernican Revolution replaced the Earth (female) as the center of the solar system/universe with the sun (male) then female sexuality as a topic disappeared from discourse.
It is an extremely interesting idea but I would really like to see some good supporting evidence. If anyone knows of any books or articles that address this idea I would be most grateful. My initial skepticism leans toward the shift having started well before and that the displacement of the Earth from the center was perhaps the final straw. And even if the idea as presented is true, then I imagine it is hingeing on a highly condensed version of reality, in that the Copernican Revolution involved an awful lot of historical, political, societal and religious changes that were highly intertwined and influencing each other in multiple ways. Symbolically this idea is highly interesting, but I imagine the reality of the shift away from a supposedly fairly prevalent knowledge of female sexuality and needs to one that pretty much discounted female sexuality would have to be far more complex than a shift in symbols.
I would love to have my skepticism discounted though so please do pass along any sources you may be aware of that address this issue. [I went back and re-watched that section and got her name and the name of the book she wrote, Presence in the Flesh: The Body in Medicine, which Sara has requested for me.] So, if you are aware of any other sources that address this intriguing topic please do pass them along.
Synopis:
Hysteria: Good romantic comedy based on an excellent and important book.
Follow-up: Tonight (3 December) we watched the full documentary, Passion and Power: The Technology of Orgasm, which we got through ILL. It was good but it was only 74 minutes vs. the 47 minutes of excerpts on the DVD of Hysteria as an extra. The additional material was interesting but probably not worth going out of one's way to acquire. You can find more information about it here.
Young's book has also arrived by this point in time and I look forward to having a go at it, but I am highly disappointed to say that neither Copernicus nor Copernican Revolution are anywhere to be found in the index. I want to know more about this symbological interpretation but am remaining highly skeptical as to its actual explanatory depth.